What Went Right (and Wrong!) for Every F1 Team in 2022
It wasn't all Champagne and celebrations for Red Bull; while even Haas had a few bright spots.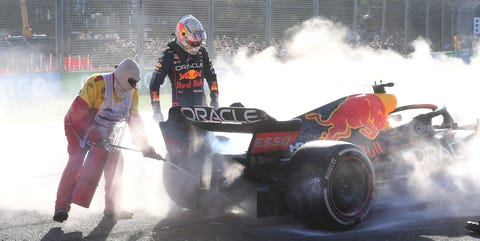 Formula 1's season is now in the history books and each team will be reflecting on what went right, and what went wrong, ahead of 2023.
Autoweek takes a look at what they may be dissecting.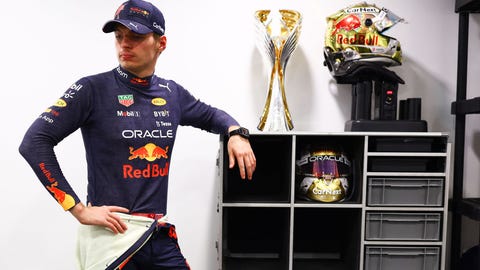 Mark Thompson
Getty Images
Red Bull: The Good
Max Verstappen surged to his second world title, while Red Bull ended its nine-year wait for a Constructors' crown in imperious fashion.
The team's 17 victories from 22 starts made it one of the most dominant seasons in history, as it rebounded from early reliability issues. Verstappen was on another planet at some events. He's already renewed his deal through 2028, while the core of the team remains exceptional. The teams' first year with Red Bull Powertrains was so smooth that the change almost went unnoticed.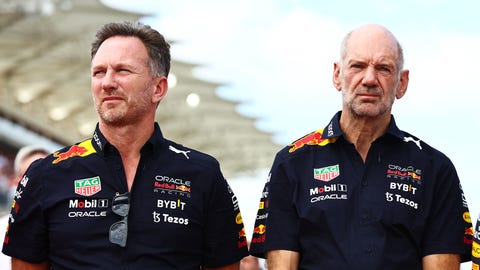 Mark Thompson
Getty Images
Red Bull: The Bad
The overspend of the cost cap cast a shadow over Red Bull's title success—it was only a "minor" breach, per the regulations, but was a breach nonetheless.
The death of co-founder Dietrich Mateschitz added a tragic tinge to the team's title triumph, and raises obvious questions over future management structures, given Mateschitz's strength as a hands-off owner.
A late-season rift between Verstappen and Sergio Perez was unnecessary and suggests distrust in a relationship many thought strong.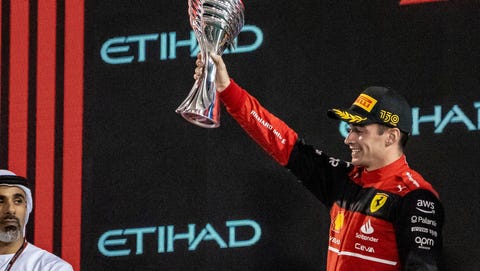 Anadolu Agency
Getty Images
Ferrari: The Good
It returned to a competitive front-running position after its miserable 2020 and promising 2021, with four wins and a second-place finish in both championships its best result in four years.
The F1-75 was rapid, showing Ferrari's design qualities, with the car particularly rapid in qualifying, delivering 12 poles—a historic season-highest for Ferrari.
Charles Leclerc once again underlined his status as one of Formula 1's fastest drivers.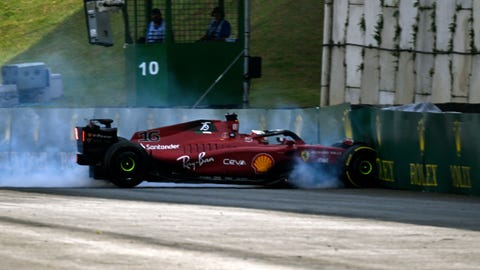 MAURO PIMENTEL
Getty Images
Ferrari: The Bad
Ferrari had 12 poles but converted them into just four wins—none after the summer recess. Reliability, strategy setbacks and driver blunders contributed to its title aspirations unravelling in dismally quick fashion.
Ferrari had a fast car but as a team looked light years behind Red Bull (and, as the season wore on, Mercedes). Team principal Mattia Binotto fell on his sword, so is this now another period of rebuilding for Ferrari so soon after the last?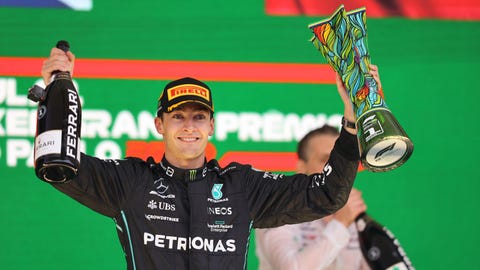 Mercedes: The Good
Its eight-year run of F1 Constructors' Championships streak abruptly ended, but Mercedes' strength as a unit was shown by how it very rarely squandered an opportunity.
Lewis Hamilton, in spite of his wealth of success, remained resilient and energetic in the face of adversity, while George Russell adeptly slotted in alongside and rebounded from a tough run of races in the fall with superb São Paulo victory. A 1-2 for the W13 was an unthinkable proposition early in the season.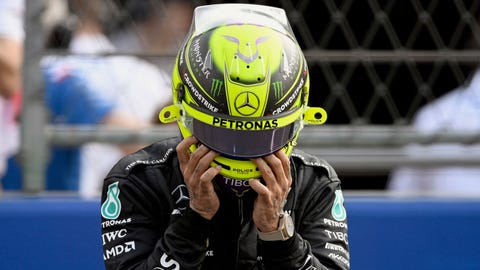 ALFREDO ESTRELLA
Getty Images
Mercedes: The Bad
The very fact its title run came to a close, it took only one pole and victory, and finished third overall—its worst season since 2012.
Neither driver was ever in contention for the crown, leaving Hamilton to endure one of his least competitive campaigns. End-of-season displays were encouraging but the big question is the path it now pursues, and whether it can recover the time deficit heading into 2023.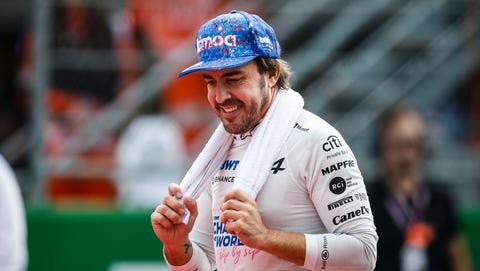 Alpine: The Good
Alpine improved its position in the championship standings from fifth to fourth, and its in-season development was strong after a build-up to 2022 that CEO Laurent Rossi later admitted was "a shambles."
Given Renault's politics, and occasional apathy to F1, Alpine needed to display progress and promise—and that it did. Fernando Alonso remained acerbic and relentless while Esteban Ocon improved and was a more-rounded driver than in past campaigns.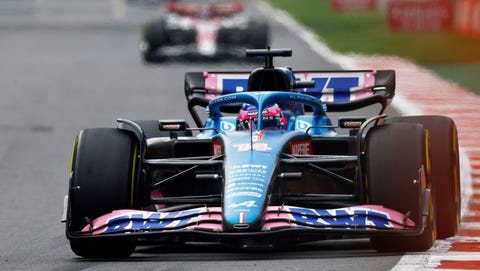 Chris Graythen
Getty Images
Alpine: The Bad
The driver saga over the summer reflected badly on Alpine's management and internal structure. Inability to offer Fernando Alonso more commitment prompted his exit. The team then lost the race to sign former F2 champion as Oscar Piastri, who had already signed for McLaren—unbeknownst to Alpine.
Reliability of the A522 on Alonso's car of the garage was underwhelming, costing the Spaniard a haul of points.
After podiums (and a win) across 2020-21, lack of any podiums for the team in 2022 was disappointing.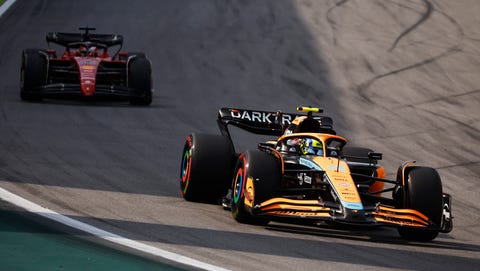 Chris Graythen
Getty Images
McLaren: The good
Lando Norris continued to demonstrate his ability with a spate of standout performances—most notably at Imola, taking a podium. His podium was the the only one all season to come from a driver outside of the top three teams.
McLaren was sharper as a team and produced the fastest pit stop of the year—registered at 1.98 seconds—and was consistently quick in this department. And early start with new recruit Oscar Piastri also a positive going into 2023.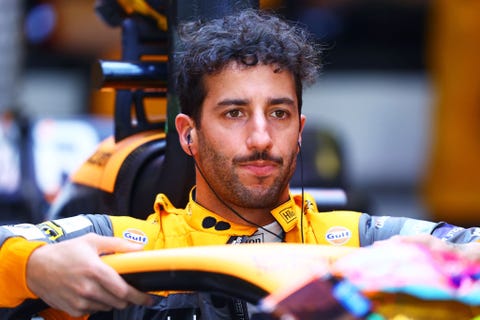 Mark Thompson
Getty Images
McLaren: The Bad
Daniel Ricciardo's downfall was sad, and it led to an early announcement of a split for 2023. His struggles heavily contributed to losing fourth place in the Constructors' Championship to Alpine.
The MCL36 was a solid but not outstanding car with flaws, while early season brake issues accentuated initial struggles. A new wind tunnel gives McLaren hope but it will not be operational until mid-2023 at the earliest. Losing team principal Andreas Seidl was also an unexpected blow midway through its project.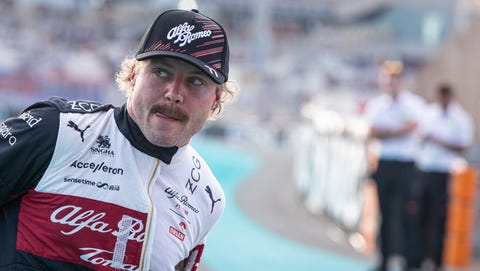 Alfa Romeo: The Good
Valtteri Bottas' sixth-place finish at the season-opening race in Bahrain was the team's highest finish since 2013, as the rejuvenated post-Mercedes era bucket-hat-loving Valtteri Bottas thrived and bagged strong results.
Zhou Guanyu slotted in well and grew into the sport as the season progressed.
The biggest highlight was undoubtedly the announcement of a tie-up with Audi from 2026, giving Sauber Motorsport a long-term vision, financial stability, and the association with a huge manufacturer.
Getting new team boss Andreas Seidl on board is a big coup.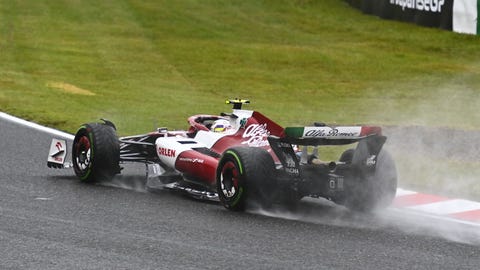 Anadolu Agency
Getty Images
Alfa Romeo: The Bad
Sixth-place Alfa Romeo's long-term focus on 2022 paid dividends early, but meant it regressed during the season as midfield rivals caught up and overtook.
The C42's reliability was poor, leading to lost results and disrupted build-ups, while protracted clutch issues frequently cost drivers Valtteri Bottas and Zhou Guanyu on the opening lap. Zhou, while promising, will need a step up in sophomore season.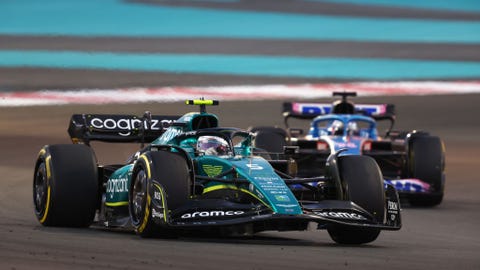 Bryn Lennon - Formula 1
Getty Images
Aston Martin: The Good
Development of the AMR22 was solid after the big upgrade package arrived in Spain, following which it scored in all bar three events.
It lost the dignified and eloquent Sebastian Vettel to retirement, the right time to wave goodbye, but recruitment of Fernando Alonso was a huge coup for its project considering the paucity of options elsewhere.
New factory will be operational in under six months—and the excitement there is palpable.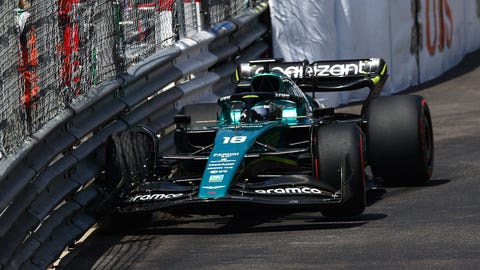 Aston Martin: The Bad
Start of the season was awful, amid flawed design concept, leaving the team plum last in the standings in the early part of the campaign and the butt of jokes.
Team owner Lawrence Stroll's investment is enormous but putting together the pieces of the puzzle remains a long-term task. Lance Stroll remains a frustrating enigma: sometimes capable of a surprisingly good display, before disappearing again or just being downright sloppy. Crashing with future and present teammates twice in three races was dismal.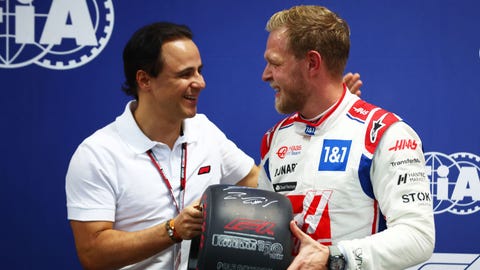 Dan Istitene - Formula 1
Getty Images
Haas: The Good
Haas re-established itself in the midfield at most Grands Prix, after its 2019-20 slide and pre-determined 2021 write-off.
The unexpected comeback of Kevin Magnussen was a big plus, as he bagged a standout fifth-place finish in Bahrain and shock emotional pole in Brazil.
Securing MoneyGram as title sponsor on a multi-year deal fills a financial hole and will allow team to compete up to the cost cap.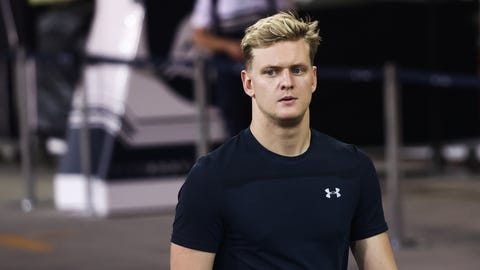 Haas: The Bad
Castoff Mick Schumacher crashed too many cars and didn't make the step up the team desired, while development of the VF-22 focused on one big package that was delayed and which took time to understand.
Only one non-Sprint top-10 finish after the summer break highlighted how 2022 dropped off. The team spent the second half of the season with greater focus on 2023, meaning next year needs to be better to justify early switch.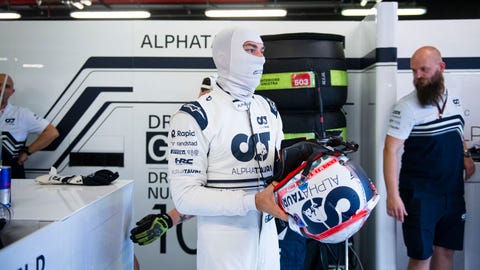 Rudy Carezzevoli
Getty Images
AlphaTauri: The Good
Not much sadly. AlphaTauri was at least still firmly in the midfield mix, scrapping for the lower points paying positions at most races, and its AT03 demonstrated flashes of speed at certain circuits.
Pierre Gasly was a model professional while Yuki Tsunoda showed signs of rounding the rough edges that blunted his rookie campaign.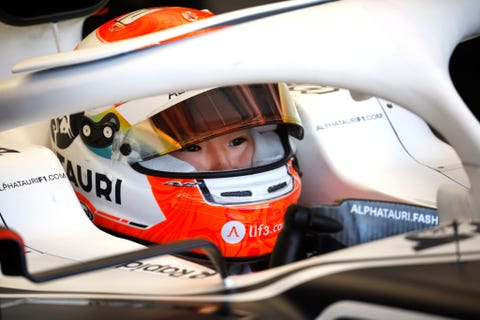 Chris Graythen
Getty Images
AlphaTauri: The Bad
More, sadly. Ninth place in the Constructors' Championship marked its worst finish in some years. The heady days of a win, podiums and other giant-killing results were placed firmly in the rear-view mirror.
It scored 142 points in 2021 but just 35 in 2022. It lost team spearhead Pierre Gasly to Alpine, while question marks remain over the ultimate ability of young Yuki Tsunoda. It is hard to see 2023 being a strong season, either.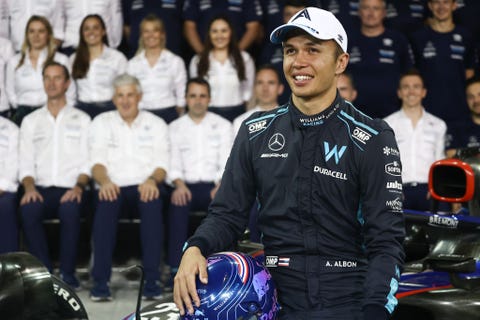 Williams: The Good
The amiable Alex Albon swiftly proved his merit to Williams after his year out with a sequence of plucky drives. Williams scored points at five separate grands prix, its best return since 2017, and also surprisingly topped a rain-hit practice session in Hungary through the oft-maligned Nicholas Latifi.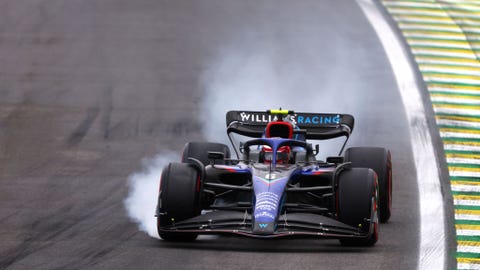 Bryn Lennon - Formula 1
Getty Images
Williams: The Bad
Taking the wooden spoon for finishing in last place in the Constructors' Championship for a fourth time in five years was lamentable after green shoots of recovery in 2021.
The FW44 wasn't a hapless no-hoper of a car but it was still the backmarker, with Williams' 27 points behind next-worst AlphaTauri.
Driver Nicholas Latifi never truly recovered from an early loss of confidence with new-spec cars and was anonymous for much of the season. Post-season departure of team principal Jost Capito and and technical boss FX Demaison leaves Williams without a team principal and technical director.
It is hard to shake the notion the squad is drifting or at least lacks vision.