Autoweek's Top 11 F1 Stories of 2022
Las Vegas, Miami and Michael Andretti gave the 2022 Formula 1 season a decidedly American flavor.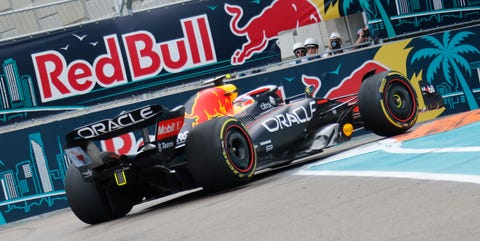 Icon Sportswire
Getty Images
Formula 1 is rarely out of the headlines, even during the offseason, and it was once more a busy year of news for the championship. Autoweek reflects on the 10 biggest news stories in the world of F1 for 2022.
11
Porpoising Leads to Major Design Changes
MAURO PIMENTEL
Getty Images
When Formula 1's class of 2022 ran in anger for the first-time during preseason testing, a term quickly dominated: porpoising.
The return of ground effect, and the altered airflow, meant—to varying degrees—the cars were bouncing up and down. Teams had to adapt the best they could as they sought to minimize the bouncing while extracting maximum performance.
There was also the issue of driver safety, amid concerns over drivers developing back problems and the unknown long-term impact, and the FIA ultimately took action on safety grounds. It implemented a vertical oscillation metric, which teams had to meet or else they'd be told to rein in set-ups, while tweaks were made to the floor edges, ahead of further changes for 2023.
In conjunction with teams gaining understanding about porpoising, the subject became less of a talking point after the summer recess, though it still flared up on occasion—and could yet do so next year as teams further push the limits.
10
Audi Announces Timeline for F1
Through the opening half of 2022, key F1 stakeholders eventually finalized the regulatory framework of the 2026 power units—and the big draw was to entice new manufacturers.
The primary target was VW Group, through its brands Audi and Porsche, with the entities to remain separate. For several months, the greater spotlight was on Porsche, amid lengthy discussions with the pace-setting Red Bull Racing outfit over a prospective collaboration. Yet a deal was never done, despite positive noises and widespread speculation, and it was Audi that first gave the green light as it unveiled its 2026 entry plans at the Belgian GP in August.
It swiftly emerged that talks between Porsche and Red Bull had gone cold, amid disagreements over control, with Porsche wanting a far greater share than Red Bull was willing to relinquish. In September, Porsche announced those talks had irrevocably broken down though it remained interested in entering Formula 1. But who with and how remained a big question on which it has since stayed silent, with the clock continuously ticking on.
Audi, meanwhile, is now full steam ahead on its engine project in Germany, ahead of its 2026 entry with Sauber.
9
Andretti F1 Bid Receives Cool Reception
Icon Sportswire
Getty Images
In February, Mario Andretti dropped a news dynamite with the revelation that son, Michael, was seeking to expand his Andretti Autosport empire into Formula 1.
Andretti would base his prospective team in the U.K., run Colton Herta as the lead driver, and was aiming at a 2024 entry. But it swiftly emerged that Andretti had little support from Formula 1 or from many of the other teams. Teams simply didn't want to see the prize money distributed among 11 teams, thus reducing everyone's slice of that pie.
McLaren was favorable—a given, due to McLaren Racing CEO Zak Brown's professional association with Andretti—while Alpine was also onboard as Renault would supply Andretti with power units.
However, Formula 1 repeatedly dismissed the notion of Andretti joining while other teams suggested that they were not keen to split the revenues with another outfit. Andretti was a prominent presence in Miami, trying to drum up support, and behind-the-scenes kept working throughout the year.
There are heavyweights involved in terms of finances, and Andretti has just begun construction on a large facility in Indiana that would eventually house its Formula 1 project among its other commitments, but as of now it does not have an entry.
8
The fall of Daniel Ricciardo
Anadolu Agency
Getty Images
In 2021, Daniel Ricciardo joined McLaren on a three-year deal primed to spearhead the team's gradual ascent towards the championship. That was the ambition.
The reality was starkly different.
Ricciardo departed one year early and outside of the top 10 in the championship standings for the first time since 2013. As early as Monaco. whispers abounded that McLaren was seeking alternatives to Ricciardo, given his performance struggles, though the team steadfastly reiterated its commitment to the three-year contract.
But when 2021 F2 champion Oscar Piastri rejected his intended promotion at Alpine, it was abundantly clear that McLaren was his only possible landing spot. That left Ricciardo and McLaren to agree a severance package and an amicable split.
7
Ferrari Falters, Team Principal Binotto Walks Away
Ferrari is always big news in Formula 1 unless it is comfortably winning.
It is the most known outfit, the most decorated, and the most historic—and in Italy it is almost comparable to a deity. It began the year strongly, and its F1-75 remained rapid throughout the course of the season, but it picked up only four race wins as Red Bull steamrollered its one-time rival.
Ferrari's title drought extended into a 14th season, meaning its wait for a championship is approaching the longest in its distinguished history.
Team principal Mattia Binotto fell on his sword only days after insisting that he was focusing on Ferrari's plans for 2023. Ferrari recruited Frederic Vasseur, prompting dominoes to fall elsewhere, with Andreas Seidl released from his contract three years early to join Sauber, while his role at McLaren has been filled by Andrea Stella.
With Williams axing Jost Capito it means four of the 10 teams will have new team principals in charge in 2023.
6
Mick Schumacher Can't Live Up to the Hype
Eurasia Sport Images
Getty Images
Mick Schumacher's 2021 season was a struggle, which was to be expected given Haas' decision to write-off its campaign in pursuit of loftier ambitions under new 2022 regulations.
Schumacher's second season came with greater expectation and he sadly failed to deliver a sizeable step up. The early successful performances of returnee Kevin Magnussen, long-term backers Ferrari's coolness towards him, and a couple of costly (both in terms of money and results) accidents meant Schumacher was facing the harsh reality of Formula 1 before the mid-point of the season.
Schumacher did improve, twice scoring points, while the chance of adding to his tally was scuppered elsewhere by occasional reliability issues or strategic mis-steps. Nonetheless, Haas had already begun exploring prospective replacements and zeroed in on veteran Nico Hulkenberg, leaving Schumacher without a ride for 2023.
For the son of a Formula 1 legend it was always going to be a tough journey but while Schumacher was an amiable and respectful figure, on-track it was a largely underwhelming season.
5
Formula 1 Bets on Las Vegas
Ethan Miller - Formula 1
Getty Images
Formula 1 wasn't content with simply adding a second U.S. round with the addition of Miami in 2022—it wanted three. And it wanted the piece de resistance: Las Vegas.
Finally, in March, it was confirmed: Formula 1 is going to Las Vegas on a multi-year deal. And not just that, but some of the city's streets will be converted into the race track: including a one-mile stretch of the iconic Strip.
The race will take place on Saturday, November 18, 2023 with a start time of 10 p.m. PT, making it a night race, albeit a badly-timed one for U.S. fans on the East Coast. Formula 1 itself is part of the group promoting the Grand Prix meaning there has already been heavy positive publicity.
A preview run in early November, attended by Lewis Hamilton, George Russell and Sergio Perez, attracted a huge crowd, highlighting the fanbase already present in Nevada.
4
Champion Red Bull Breaches Cost Cap
Mark Thompson
Getty Images
Formula 1 introduced a cost cap for 2021 and the auditing process took place over a prolonged period as the FIA and associated parties worked through the procedure for the first time.
In Singapore, rumors emerged that two teams, most prominently Red Bull Racing, had breached the cap. That prompted a harsh war of words between several parties, reopening some wounds from 2021, though the FIA took more time to finalize the process.
The day after Max Verstappen's title win in Japan it was confirmed that Red Bull had transgressed with a minor breach, judged at less than 5% of the financial regulations. An angry Red Bull insisted it had done nothing wrong but later entered an agreement with the FIA, accepting a fine of $7 million and a 10% loss of its aerodynamic testing time.
Red Bull later explained it interpreted some aspects, such as catering costs and sick pay, as being excluded from the $145 million million budget cap, and that its £1.8m (approx. $2.15 million) breach would have been only £400,000 (approx. $480,000) had tax credits been correctly applied.
Icon Sportswire
Getty Images
As the only new race in 2022, there was a lot of focus on Miami—and that was intensified because it was a location that series owner Liberty Media has touted for years, in a country the championship has been desperate to capture.
Straight away it was the event to be at, and be seen at, one that took Formula 1 to a fresh demographic. The list of celebrities, sporting legends and other assorted VIPs was impressive. The semi-permanent street circuit had little to shout about in terms of layout, while the race itself was intriguing if not outstanding.
What's more is that its position in the schedule, and the atmosphere it created, ensured it complemented rather than detracted from Formula 1's established and much-loved U.S. GP at Austin.
2
Sebastian Vettel Reaches End of the Line
Four-time champion Sebastian Vettel caused shockwaves in July when he announced that 2022 would be his last season racing in Formula 1.
Sure, Vettel hasn't won a title since 2013, and hasn't figured up front since 2019, but this was still one of the all-time greats hanging up his helmet. He is third on the all-time win list, fourth in pole positions, and fourth-equal in titles.
What's more, he recognized matters way beyond the paddock turnstiles, about which he could use his high profile to raise awareness. The timing of his announcement meant he could have a farewell tour, of sorts, and it graciously gave Aston Martin leeway to find a replacement, namely Fernando Alonso.
Vettel conceded the decision, and public announcement, lifted a weight, and he performed strongly across his final events. The goodwill displayed by his competitors, teams past and present, and the remainder of the Formula 1 community, underlined the esteem in which he is held.
1
Max Verstappen's Season for the Ages
Anadolu Agency
Getty Images
Max Verstappen rewrote a few lines in the Formula 1 record books in 2022, winning an all-time best 15 races in a single4 season on his way to a second consecutive F1 championship.
The season started slowly with DNFs in two of the first three races. But from that point one, Verstappen was next to unstoppable. He finished on the podium in 17 of 22 races.
Verstappen, just 25 years old, is already sixth all-time in career F1 wins with 35. He trails the great Ayrton Senna by just six wins for fifth on that list.
Verstappen is also eighth all-time in podium finishes, just three behind Senna for seventh.