The 5 Most Memorable Holiday Movie Cars
George Bailey, Clark Griswold, and the Wet Bandits needed special vehicles to bring us holiday cheer.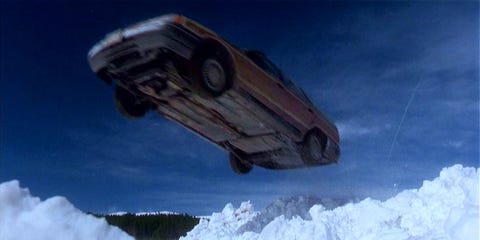 The phenomenon of predictable and sappy Hallmark Christmas movies has made the actually entertaining holiday films that have stood the test of time all the more worthy of watching this time of year.
The gearheads among us might reach for the remote to pause when a particularly interesting car appears on screen (just admit you've done it) while watching any movie at home.
This list we present today isn't about interesting or historic or sexy cameo cars—these cars are none of those things. Instead, these mainstream, neglected, bread-and-butter cars were cast precisely this way to help build the plot lines and ultimately play a pivotal role in these holiday classics. The ranking below takes into account just how key this particular car is to the overall story.
Special thanks to the Internet Movie Cars Database, where the team graciously allowed us to repost photos of these memorable vehicles and peruse a wealth of other titles, such as A Cadaver Christmas (yes, zombies), 12 Dog Days of Christmas, A Christmas Horror Story, and Christmas Evil.
5
1937 Oldsmobile Six F-37 Touring Sedan, "A Christmas Story"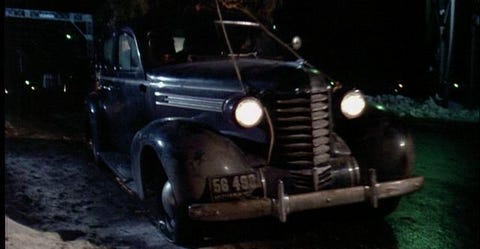 This gem arrived in theaters shortly before Christmas 1983 and it took years before it became a classic, retelling Ralphie Parker's childhood holiday memories in smalltown Hohman, Indiana. All Ralphie wants from Santa is a Red Ryder air rifle.
But this movie makes the list because Ralphie (narrating the story as an adult) recalls his father's love for a particular brand of automobile. "Some men are Baptists, others Catholics. My father was an Oldsmobile man." Set in 1940, the Parker family has a black 1937 Oldsmobile Six F-37 Touring Sedan that appears in the movie, at one point with the Christmas tree roped to the roof.
Ralphie also threw his dad under the bus for not taking better care of the Olds. "My old man's spare tires were actually only tires in the academic sense. They were round—they had once been made of rubber."
4
1986 Dodge Ram Van, "Home Alone"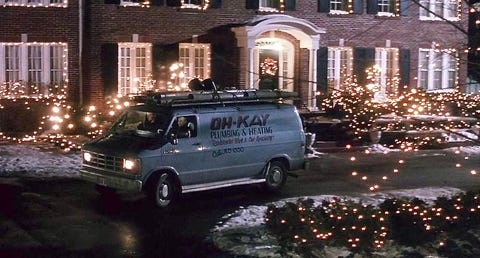 Vehicles were plentiful in the 1990 John Hughes comedy about young Kevin McCallister, who was mistakenly left behind at the family's grand home in the Chicago suburbs while the extended family flew to Paris for Christmas. But the vehicular star was the 1986 Dodge Ram Van driven by the numbskull robbers Harry and Marv, who call themselves the Wet Bandits, breaking into upscale homes (like Kevin's) to loot, then leaving water running to flood the house.
The light blue work van (with OH-KAY Plumbing & Heating painted on the side) appears throughout the movie as the bumbling thieves discover that Kevin is home alone and then hatch their plan to break in. Looking like it belongs to legit contractors in a toney neighborhood, the Dodge van provides ample cover for the robbers, but it can do nothing to save them from the lethal booby traps young Kevin has hatched to protect his homestead.
3
1984 Chevrolet Cavalier Wagon, "The Preacher's Wife"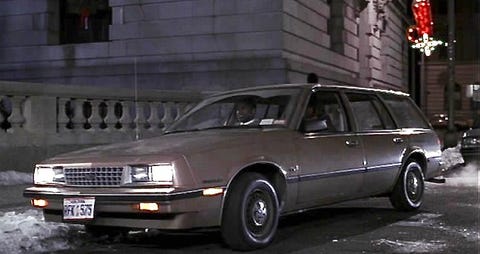 Denzel Washington and Whitney Houston add firepower to this 1996 Oscar-nominated film that was a remake of the 1947 movie, The Bishop's Wife. Denzel plays a debonair angel named Dudley, sent from above shortly before Christmas to help the Rev. Henry Biggs (Courtney B. Vance), who is struggling mightily to help needy families at his cash-strapped urban parish and to keep the outdated boiler working in his very old church. The demands of the job have put a strain on the pastor's marriage to Julia (played by Houston) and his relationship with their son.
A 12-year-old Chevy Cavalier is most unremarkable and yet a perfect conveyance for an inner-city pastor. He uses it to delivers holiday gift baskets to appreciative families in the neighborhood. He drives the car to court to successfully defend a young man wrongfully accused of a crime, and then brings the teenager home to his elated family, once again in the trusty Cavalier. The rectory's Christmas tree comes homes roped to the roof of the Cavalier, and the overwhelmed and discouraged pastor is found behind the wheel on more than one occasion praying for guidance.
The car also stars in one of the funniest scenes of the movie, when Dudley is enjoying ice skating with Julia so much that he ensures Rev. Biggs will hit nothing but long red lights to delay his arrival at the skating pond. Screaming out in frustration that he is so late, the pastor does not find this funny in the least.
2
1989 Ford Taurus Wagon, "Christmas Vacation"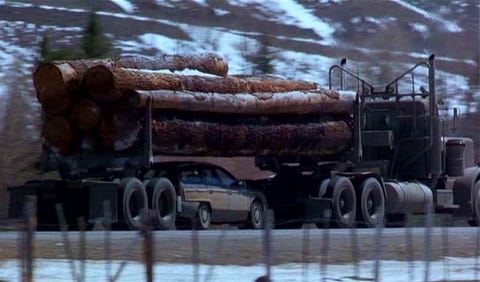 We're down to the top two picks on our list, and this 1989 National Lampoon gut-buster is the first holiday classic that required professional stunt drivers within the first four minutes of the movie. The Griswold family is heading out to the country in their 1989 Ford Taurus Wagon (custom-made as a woody for the film) to cut down a Christmas tree, and on the road they mix it up with some unseemly locals in a ragged Dodge pickup.

The confrontation is evolving into full-blown road rage, and Clark Griswold (Chevy Chase) is so bent on getting even that he doesn't even notice a third vehicle now sharing this two-lane country road: a tractor trailer fully loaded with massive pine logs. The tree trunks—and the trailer hauling them—are so large that Clark, always bumbling his way through life, has somehow maneuvered the Taurus wagon underneath the trailer. Yes, moving at highway speed under an entire tree farm of pines. It's hilarious and terrifying at the same time, but you know it's gotta end with a good laugh.
Of course it does, when Clark says a prayer and steers blindly out from under the tractor-trailer at high speed only to see that he's heading straight for a massive snow plow with its auger fully engaged. Taking further evasive action, Clark steers off the road and launches Dukes of Hazzard-style over and into a massive pile of snow, landing on a sign that says "Trees." The Griswolds have arrived at the Christmas tree farm. A funnier holiday movie intro will never be written.
1
1919 Dodge Phaeton, "It's a Wonderful Life"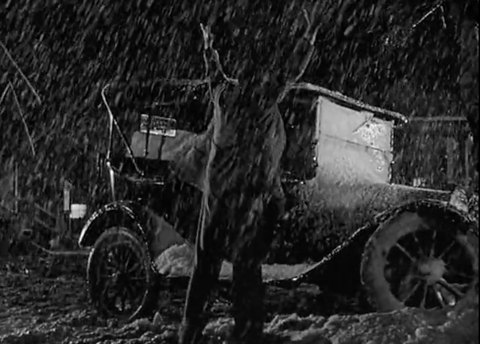 This brings us to our top-ranked holiday movie car, from what has become arguably the most cherished of all holiday films. George Bailey (Jimmy Stewart) is down on his luck, discouraged, fed up with smalltown Bedford Falls and he's realizing that his grand plans to see the world and build bridges and skyscrapers will never materialize. Heck, he can't even afford a decent car. As the plot advances from 1919 to 1946, he's still driving the same battered 1919 Dodge Phaeton that came to fetch him when his father had a fatal stroke in 1928, and that's the same vehicle many years later that George and wife Mary used to transport the Martini family—and even their goat with big horns—to their joyous new home in Bailey Park.

The Dodge Phaeton doesn't get an acting credit, but it sure does figure prominently in the story (and deserves a prize for long-term durability). When George is at the end of his rope and his son Pete is telling him about the Browns' new car next door, the father snaps at the youngster. "Well what's the matter with our car? Isn't it good enough for you!" George is in a downward spiral, and it all comes to a head on Christmas Eve as George takes off in the open-air Dodge, a car that's awfully hard to drive in a New York winter.
He goes to Martini's bar to drink and pray, and gets punched out for his rude behavior, then drives off, smacks the Dodge into a tree, and stumbles to the bridge where he's ready to end it all. He meets his guardian angel Clarence, who grants George's wish that he was never born. Nothing is the same, and of course George can't find his car that he'd smacked into the tree. As the movie reaches its emotional and uplifting conclusion, and George realizes that he wants to live again, what's the first thing he does after hugging his friend Burt the cop? He runs to find his beloved and trusty old Dodge with a driver's door that either won't open or close, and he rejoices as if he just found a pot of gold.
As for the car, there must have been a few of them used in the movie because they have been making the rounds on the auction circuit. George Bailey would be pleased to know those cars are worth more than $8000.