The 25 Best Bimmers of the 15th Annual SoCal Vintage BMW Meet
The club wanted to celebrate the 50th anniversary of BMW M, and it did, but it was 2002s to the horizon at Woodley Park in Van Nuys.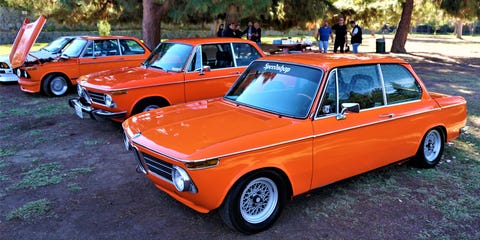 For 15 years the SoCal Vintage BMW Club has held sacred the first Saturday in November. That is the day the club gathers in the dust and on what little grass the drought has left in Woodley Park in beautiful Van Nuys. Hundreds of Bimmers park on the lawn and celebrate the joy that is an old BMW—specifically, an old BMW that was able to make it all the way to Van Nuys. The event is limited to Bimmers of the 1980s and earlier, or those models that started in the '80s and continued in production from there. For you sticklers for detail that means all E36,E34,E32,E31,E30, E28, E26, E24, E23, E21, E20, E12, E9, E6, E3, 2002, Neu Klasse, 700, and Isetta. Mottoraeder welcomen auch. The show brings out all the best and worst (wurst?) surviving Bimmers in Greater Southern California, and there are plenty of them. This year the park seemed to be carpeted with 2002s, which is a fine thing to have as carpet, if you ask me.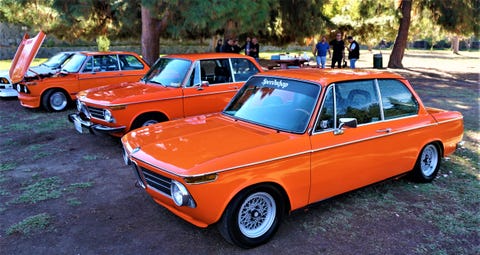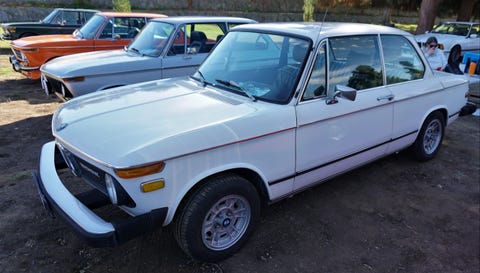 The U.S.-spec bumpers on this one are impressive and almost make you want to drive into some solid object just to try them out. The 2002 is actually part of the greater 02 series starting in 1966 with the 1602 and continuing until 1975, or '77 if you consider the 1502 "economy model."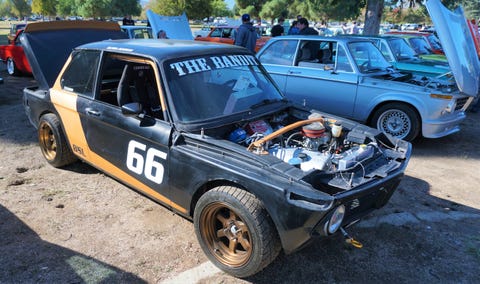 Will Bowman's built-block '72 2002 "The Bandit." See it lapping Willow here. Looks fast and fun. Will's YouTube page has just one subscriber. Come on man, let's all click like and subscribe! Go Will!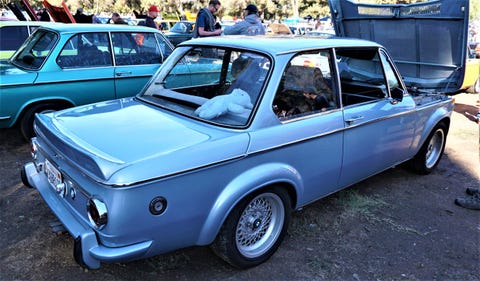 This one's for sale! It's a 1969 2002 listed as a restomod owned by "a former factory-trained BMW service technician." It has "excellent paint and no rust, flared fenders sculpted smooth into the body, undamaged chrome trim, clean glass, a perfect dash and reupholstered Recaro seats." The engine has a Norris 301 degree cam and rebuilt Weber 40 DCOE carburetors fed with an electric fuel pump. $40k. Call Dick Luke at 818 207-4877. Who's in?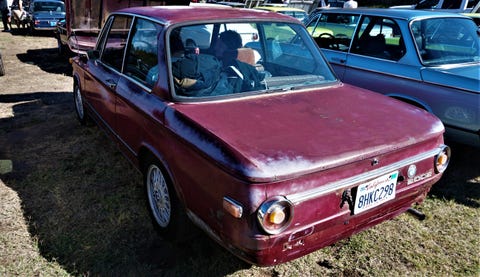 Jim Blascke's 1971 2002. Jim says, "Patina aged well."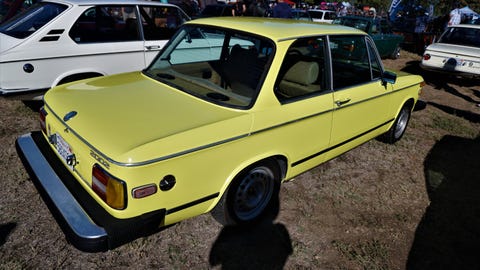 Tim Clark's 1976 2002 has, as Tim describes it, "Dirt and dents." Looked good to me.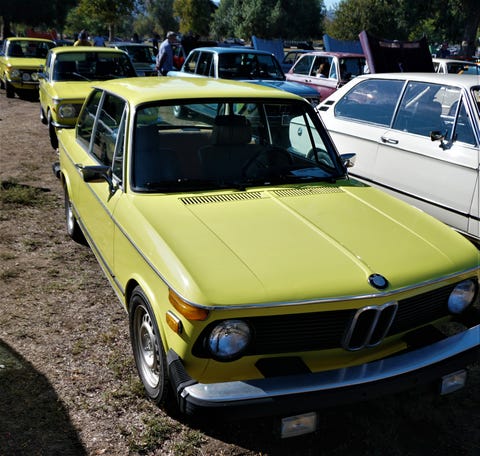 Follow the, follow the, follow the, follow the yellow Bim road!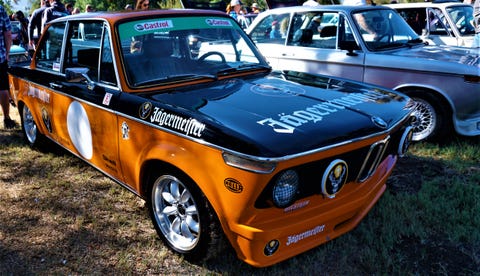 Chris A's 1974 2002 in Jagermeister livery, emphasis on the liver.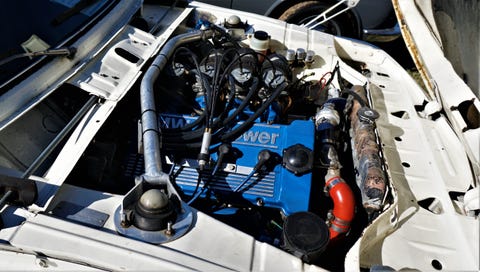 Doug Riparetti's 1975 2002 makes 209 hp through four individual Mikuni round slide motorcycle carbs with custom CNC adapters to mate the M10 intakes to the S14 head. It also has Carillo rods, forged CP pistons, custom-ground cams, ARP stud bolts, Supertech valves, Electromotive crank trigger ignition, and a G24 5-speed overdrive.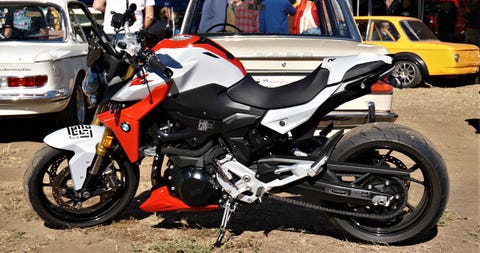 This was the only motorcycle there, at least while I was present, an F 900 R. BMW says of this model "The pure and powerful design of the F 900 R simply demands to be challenged. This dynamic roadster gives you the opportunity to get your adrenaline racing. The F 900 R responds with precision and accuracy. This means that you can engage its power intuitively, as if translating your thoughts directly into riding pleasure. The F 900 R supports you with lightning technology and connectivity."
Prices start at $8995.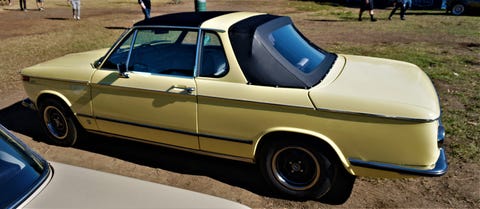 Vartan Gharpetian's 1975 2002 Baur with Roundie conversion and "glass-out restoration." See it start up here.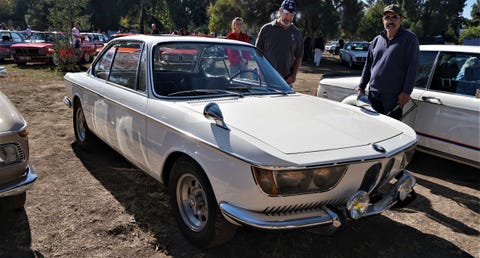 This is our friend Joe Richardson's 1967 2000 C (not CS) Automatic. BMW introduced the two-door hardtop in 1965, based on the same platform as the 2000. It was available in two versions, the 2000 C and the more powerful 2000 CS. Check out that front end and the headlights. The car was designed by Giovanni Michelotti.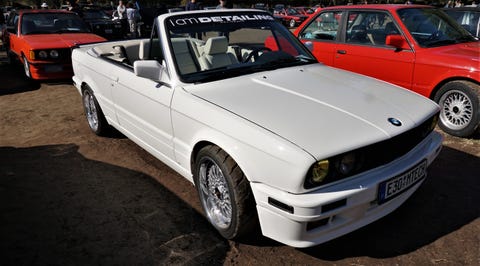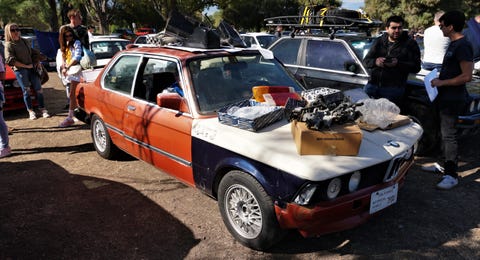 1981 E21 320i. All parts on hood and roof were for sale.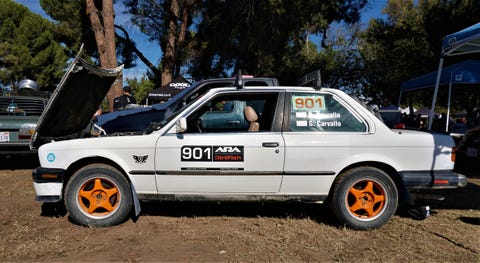 Gerardo Carvallo even has "car" right there in his name. This is his '87 325is. He works at 2002AD in Pomona, California, which specializes in 2002s but also does E30 BMWs.
"For over four decades, 2002AD has been the recognized & respected source for quality parts, service, car sales & restoration for the greater Los Angeles classic BMW population," their site reads. "Today, 2002AD continues its lasting commitment to keep you on the road in possibly the finest automobile ever made."

Carvallo was handing out fliers for The Ridge Rally Dec. 2, staging at the Antelope Valley Fairgrounds in SoCal's high desert. The rally is part of the DirtFish Western Regional Championship.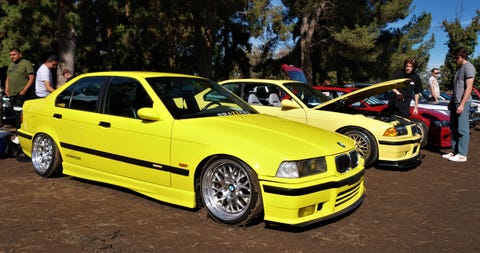 1997 M3. "I wanted to go with the brightest color I could find," the owner said. He purposely parked it next to the stock yellow car to highlight the difference.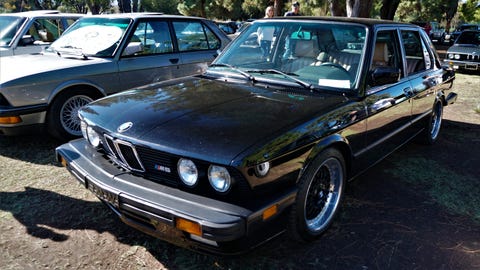 Adam Brown's stock 1988 M5.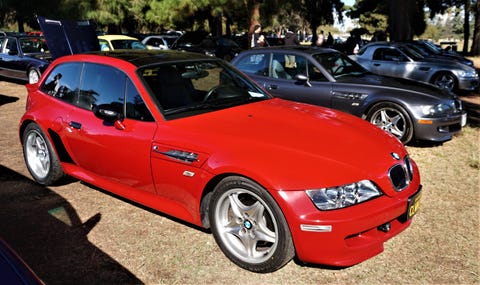 Roubik Boudaghian's 1999 Z3 M Coupe has a Dinan Stage 4 setup.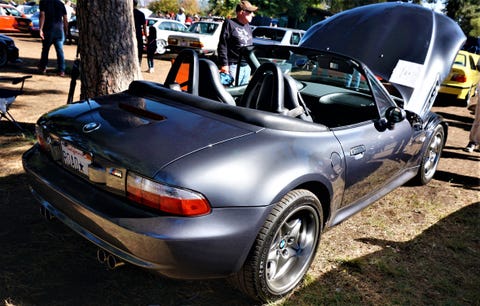 Allan K's 2002 M Roadster has "a Dinan chip, Strong Strut Trilogy and underdrive pullies."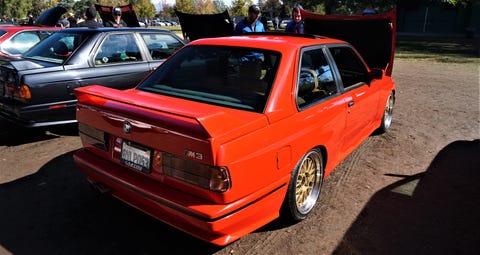 Oganes Tagaryan's 1988 M3 has a full restoration from Castro Motorsport in North Hollywood, including BBS LM wheels and Ground Control coilovers.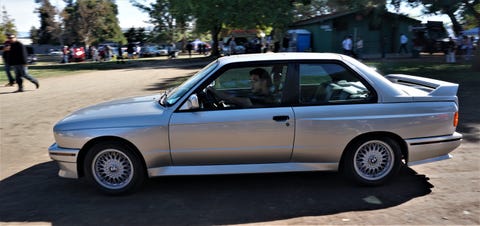 Another M3 takes an early exit.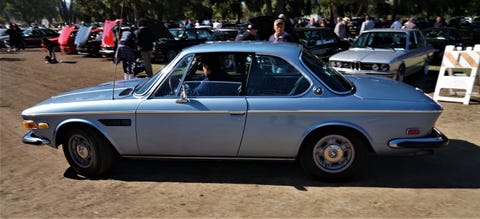 The 3.0 CS E9 was an evolution of the 2000 C/2000 CS built from 1968 to 1975. This one, the 3.0 CS , replaced the 2800 CS in 1971. With a 9:1 compression ratio and twin carburetors, it made 180 hp.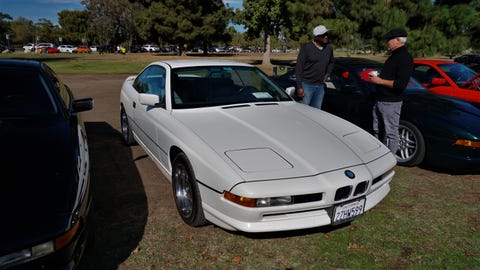 Donald Williams' 1991 850i. When this model came out, our cover words in Autoweek were, "For the Boss with an Attitude!" It had power and passing capability but it felt a little heavy. Nonetheless it is carrying itself well after three decades. This example is in excellent shape. Didn't get a chance to ask if that's the same Donald Williams who played basketball at North Carolina. LA is so full of celebrities.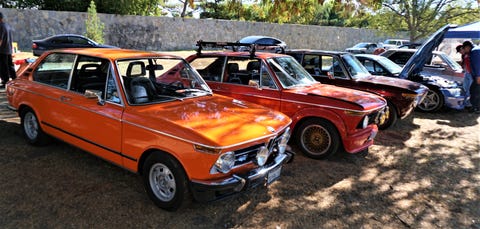 A couple of 1971 2002 tii Tourings.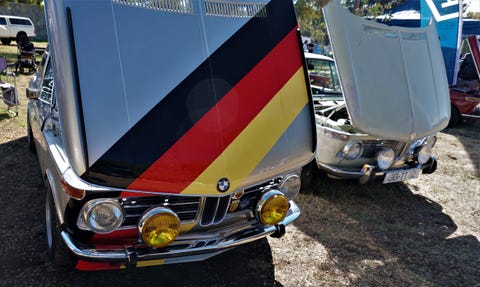 1968 2002 wins Best Hood in the 'Hood.