8 Cool Cars and Terrific Trucks Coming to SEMA
While many major manufacturers might miss the show this year, some will be there—and privateers will show up in abundance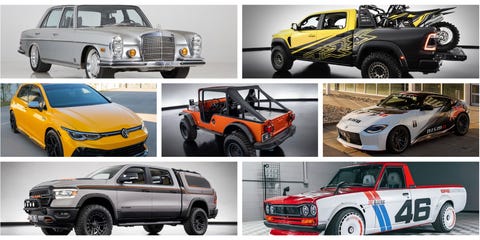 Like all major car shows around the world, SEMA is definitely going through a period of transition. Not just from internal combustion to electricity, though that's part of it, but from being a major draw for carmakers to being… less of a major draw. Both Ford and GM have pulled out of the massive aftermarket parts extravaganza that opens Tuesday in fabulous Las Vegas, and even Honda and Hyundai are nowhere to be seen on the floor chart. But Toyota, Volkswagen, MOPAR, Dodge, and Nissan will be at the show, with a few concept builds and plenty of performance parts.While the doors open Tuesday, November 1, a few builds have already been released. Here are our favorites.
ALSO CHECK OUT THE CARS AND BIKES OF AUTO E MOTO D'EPOCA
---
ICON 4X4 Mercedes-Benz 300 SEL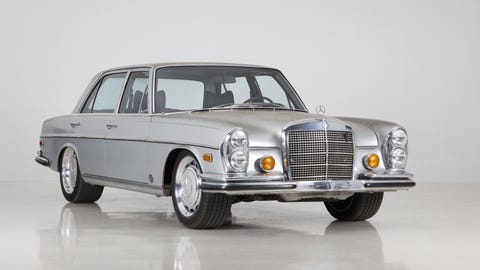 "Well, this project has been one heck of an adventure," said ICON founder Jonathan Ward. "Like most Derelicts, there's a lot more than initially meets the eye."Derelict is the term Ward uses for old cars into which he has put powerful modern mechanicals. On the outside this one looks like a well-aged 1971 Mercedes 300 SEL, a car that was originally so big and stately that it was preferred by everyone from dictators and statesmen to Elvis. This one has a supercharged LS9 mated to a 4L85E automatic riding on a custom Art Morrison chassis. And on and on. For full details, check out the video.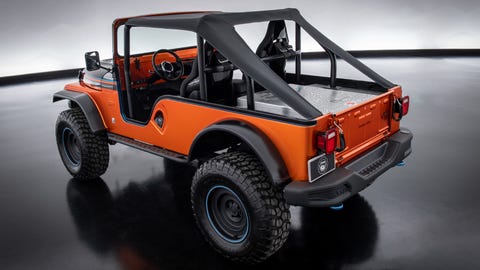 While you can buy a Jeep 4xe right now at your Jeep dealer, that's a hybrid, with a gasoline engine as part of the powertrain. This concept is all electric, all the time.
"The Jeep CJ Surge concept explores a future zero-emission propulsion system kit and supports the Jeep brand's mission to become the leading electrified SUV brand in the world," said Mark Bosanac, North America senior vice president, Mopar service, parts and customer care.
The powertrain in the CJ Surge concept is still listed as a custom creation but is also called "scalable" by Jeep, suggesting it could be put into production at some point. The powertrain includes a 400-volt, 200-kW "Electric Drive Module" that mounts to the frame with what Jeep calls custom-designed solid motor mounts. Torque goes through a two-speed transfer case and "selectable gearing" and thence to all four wheels, drawing on power from 24 lithium-ion battery modules.
Ram 1500 TRX Gold Shot Concept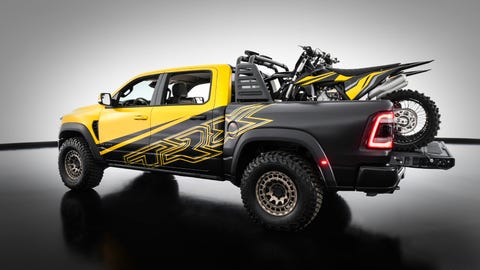 The Gold Shot concept starts out as a mighty 702-hp Ram 1500 TRX truck—what Ram calls "the quickest, fastest and most powerful pickup truck in the world," and they ain't kidding. From there Ram engineers added a couple of dirt bikes in the bed to show serious versatility.
The rig rides on vintage bronze 18-by-9.5-inch Black Rhino Chamber wheels wrapped with 37-inch BFGoodrich KM3 tires. Those exterior colors are Satin Bitter Yellow and Satin Black, by the way. That's a RamBar accessory bar behind the cab with 14-inch TYRI LEDs making 4300 lumens of "exceptionally bright light," according to Ram.
Ram 1500 Backcountry X Concept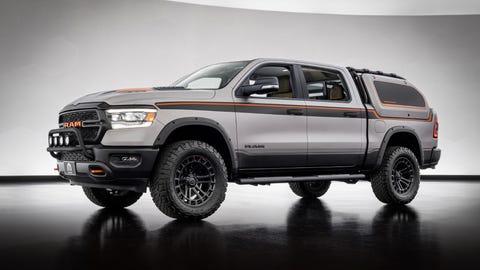 The Backcountry X is designed for "the truck owner who is serious about combining work and play," Ram says. It combines a RamBox cargo management system with a custom-designed RamPack and RamRack features that show off the best of the MOPAR parts catalog.
Nissan Ariya Surfwagon Concept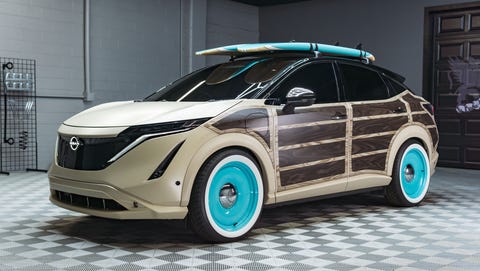 Objectivity is a virtue here on the internet; we report, you decide, and styling and design are subjective things. But I think we can all agree that this is not the most attractive ride to grace a car show, even by the often-tasteless standards of the Las Vegas SEMA show.
"Designed to stoke dreams and inspire EV owners to personalize their vehicles to fit their lifestyles, the Nissan Ariya Surfwagon concept reimagines the 2023 Ariya, the company's first all-electric crossover, as a California-style surf 'woodie' wagon," Nissan said.
The company ignored the many shops in surf-happy California that might have given the project a better sendoff, and went instead with a shop in South Carolina, a state not exactly known for surfing and surf wagons. Thankfully, that's not real wood paneling, it's just a wrap. So at least it can be peeled off quickly, which someone should do ASAP.
Nissan LEAF-Powered Sunny Truck Project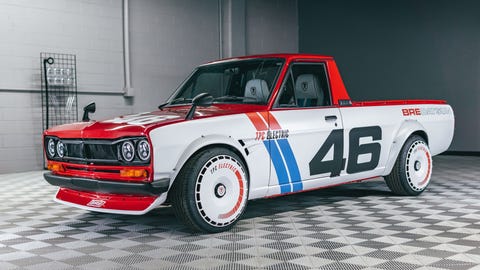 Nissan used the name Sunny for a number of vehicles over the years and this one was put on a truck. This 1987 Nissan Sunny is owned by the same Tommy Pike who built the Ariya above, showing that Mr. Pike does have good taste, after all. He has engineering chops, too, as the Sunny here is powered by an all-electric LEAF drivetrain. It features an electric motor and 40-kWh lithium-ion battery pack from a Nissan LEAF. Rated at 147 horsepower and 236 lb-ft of torque, the LEAF motor has around twice the power and more than three times the torque of the gasoline four-cylinder engine originally equipped in the Sunny, Nissan says.
"I bought the Sunny Truck because I thought it was such a cool piece of Nissan history and heritage—especially when I saw it was a right-hand-drive model," said Pike. "Taking the unexpected step of converting the Sunny to electric power while wrapping it with the Brock Racing Enterprises livery felt like the perfect way to pay homage to Nissan's heritage and modern innovation."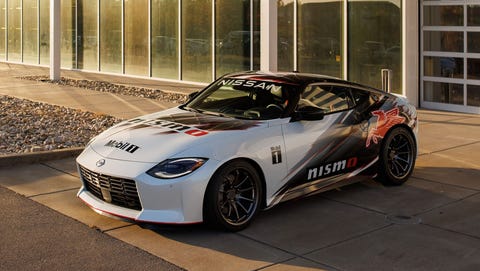 The "NISMO Accessorized Z" is a rolling performance parts showcase for Nissan's NISMO division. This one is sporting plenty of those parts: a NISMO coilover suspension kit, NISMO adjustable stabilizer bar kit, prototype NISMO strut tower bar, and NISMO suspension components including rear midlinks, rear lower camber links, rear traction arms, endlinks, front upper arms, and front outer tie rod ends. It also has NISMO big brake kit that includes track-ready brake pads, larger vented front and rear rotors, six-piston front/four-piston rear calipers, and stainless-steel brake lines, new NISMO LM-RS1 wheels, 19 x 9.5 inches front and 19 x 10.5 inches rear, and NISMO cold air intake and even a NISMO performance heat exchanger. Who knew there were performance heat exchangers? This one is 148 percent more efficient than stock.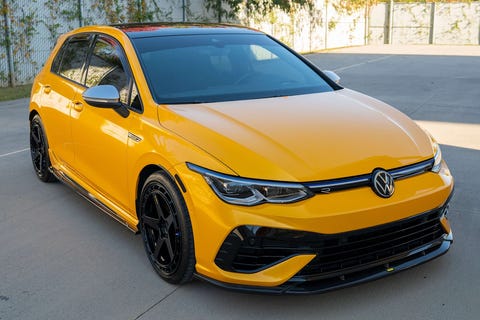 Milltek is known for its precision performance exhaust kits, and that's what you'll find on this Golf R at SEMA's booth #24967. That's an Inozetek Super Gloss Dandelion Metallic Yellow wrap you see on the Golf R, over an Urban Automotive Mk8 Golf R body styling kit. But you have to look underneath to see the Sport cast high-flow downpipes, HJS Sport Cat, and a Milltek Sport non-resonated cat-back exhaust system with valved race rear muffler. Notice also the H&R lowered suspension, 19-inch wheels, and GT-115 brushed titanium trims.
Look also for the Milltek Land Rover Defender, which, like the Golf R, comes with an Urban Automotive body kit and its own Milltek Sport non-resonated valved cat-back exhaust with a black edition rear muffler and quad GT-90 Cerakote Black tailpipes.