2019 Subaru Crosstrek Hybrid – First Drive, Santa Barbara CA, Nov. 2019
With 17 miles of all-electric range, all-wheel drive, and a rugged-hatchback body style, the Subaru Crosstrek Hybrid could be the perfect entry point for a lot of buyers who'd like to get started driving on electric power.
Electric-car advocates, who've already moved on to one of several longer-range fully electric vehicles, and see EVs with large battery packs as the be-all and end-all of green vehicles, may dismiss models like the Crosstrek Hybrid as the creation of regulators. That might be true, but it's also beside the point in today's market.
Plug-in hybrids fit those who live in apartments or urban environments and need a daily-driver capable of commutes and weekend trips. If you can't count on easy overnight charging but like the idea of charging whenever you can, perhaps at work or when out on errands, it's a good solution to get as many electric miles as possible. But they can also be tough to explain to shoppers who don't have engineering degrees. 
It's useful to remember that plug-in hybrids weren't created to appease regulators. A handful of efforts built for academic researchers and institutions about 20 years ago showed proof of concept, and automakers had to twist regulators' arms to get credit for them. Finally, the idea came to market with the Chevrolet Volt in late 2010, the Toyota Prius Plug-In Hybrid (and Fisker Karma) the next year, and the Ford C-Max Energi in 2012.
Home charging remains about as much of a hurdle as it was when the Volt was introduced. Census estimates from last year show a continued U.S. shift toward urban living.
DON'T MISS: Plug-in hybrid problem: buyers don't understand them at all
In justifying the Crosstrek Hybrid's credentials, Subaru specifically cited the 2017 U.S. government National Household Travel Survey, which found that 85 percent of trips are less than 16 miles and 60 percent of trips are less than 6 miles. With workplace charging, even at five hours on 120V AC for a full charge, even those with longer commutes could do it mostly electrically in a car like the Crosstrek Hybrid.
In their all-electric driving modes, plug-in hybrids tend to be far more efficient (and cleaner) than conventional hybrids. The Crosstrek Hybrid is rated at 90 MPGe (miles per gallon equivalent) in its electric mode—better than any other "rugged" plug-in hybrid such as the Mitsubishi Outlander PHEV, Mini Countryman S E, Volvo XC60 T8 Plug-In Hybrid, or Mercedes-Benz GLC 350e. It's also more efficient in its electric mode than the Jaguar I-Pace (76 MPGe) and nearly as efficient as the Tesla Model X (93 MPGe).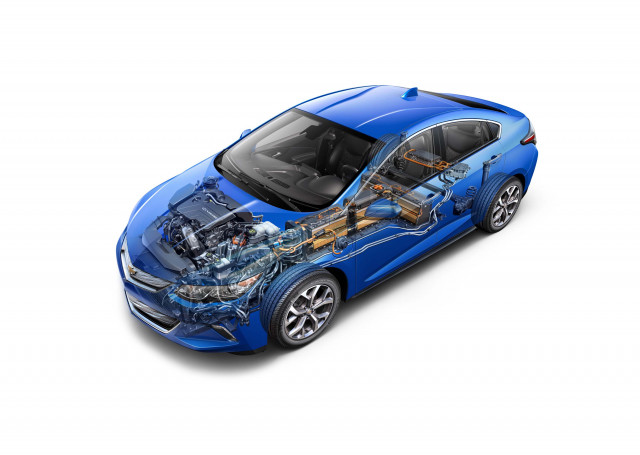 2019 Chevrolet Volt
The Chevrolet Volt, Honda Clarity Plug-In Hybrid, and Toyota Prius Prime remain the overachievers in the plug-in hybrid set, with 50-state availability and some top range and efficiency numbers. The Volt is rated 106 MPGe in electric mode and 42 mpg once the charge is used up. The Clarity PHEV is rated 110 MPGe and goes 47 miles electrically. And the Prime achieves an EPA-rated 133 MPGe and can go 25 miles in all-electric mode. Its combined mileage rating once the charge is used is 54 mpg.
CHECK OUT: How many miles are enough for a plug-in hybrid? Readers respond
The plug-in hybrid landscape can even accommodate large families in the Chrysler Pacifica Hybrid, a roomy minivan that seats seven and can go 33 miles, all-electric, on a charge—provided you don't accelerate too quickly—and earns 32 mpg combined after that. Compared with high MPGe numbers from pure electric cars, that may not sound like much, but it's impressive for a minivan. It represents a 45 percent fuel savings before you ever plug it in.
Page 1 of 2
1
2
Next >