2011 Nissan Leaf
As we're on the eve of naming our Green Car Reports Best Car To Buy 2019 award winner, a quick glance back at our previous winners offers several points of perspective.
One of them is that the field has evolved tremendously since then, in such a relatively short time. Another is that the pace of environmentally-focused automotive technology has been uneven, but in the electric-car realm especially, it appears to be picking up pace.
As such, our previous winners are a good mix of the revolutionary and the pragmatic.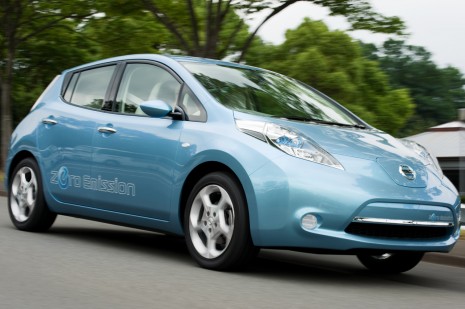 2011 Nissan Leaf
2011 Nissan Leaf
It seems that we started this award just in time for a quiet revolution. The Nissan Leaf was the first fully electric vehicle conceived for mass production on a global scale. Deliveries of this 73-mile EV began in December of 2010. At this point Nissan has delivered more than 300,000 Leafs globally, with nearly 140,000 in the U.S. But the Tesla Model 3 is quickly catching up to it.
2012 Toyota Prius Plug-In Hybrid – production model
2012 Toyota Prius family
The 2012 Toyota Prius V tall wagon brought more rear-seat flexibility and cargo space without severely impacting the Prius' excellent fuel economy, while the Prius Plug-In Hybrid provided 6 miles of all-electric driving. Although neither of these two models was game-changing, increasing the appeal of what was then the most fuel-efficient lineup was very deserving of recognition.
2013 Tesla Model S
2013 Tesla Model S
Driving the Tesla Model S made us marvel at just how far the electric-vehicle field had come in such a short time. We lauded its 17-inch touch-screen display which we said "is so fast, so crisp, and so relatively intuitive that it makes all other such control systems seem pathetically outdated." And we said of the Model S as a whole: "It's an impressive car. Period. The fact that it's green is almost secondary."
Even then, in 2012, Tesla was already starting to lay out its Supercharger network and had, almost everyone would argue at this point, the better vision for where DC fast chargers should be located—at strategic points along the highways owners might use for cross-country road trips.
2014 Honda Accord Hybrid
2014 Honda Accord Hybrid
The very mainstream Accord sedan was the vehicle Honda chose for introducing an entirely new Two-Mode hybrid system—one that relied on an electric motor to turn the drive wheels most of the time. The 2014 Honda Accord Hybrid felt more responsive than other hybrid systems and could deliver 40 mpg in real-world driving. Honda has since introduced slightly different versions of this system in the latest Accord, the new Insight, and the Clarity Plug-In Hybrid.
Page 1 of 2
1
2
Next >